One of the things I've been looking at recently are baby shower invitations.
I like those with an old fashioned feel. I find them charming, nostalgic and, depending on the design, whimsical even.
These are some vintage baby carriage invitations for baby showers (or they could be adapted for bith announcements too with a bit of changing of the wording) that I thought were especially cute and sweet.
(The following links are affiliate links. You can read more about what that means
here
.)
1.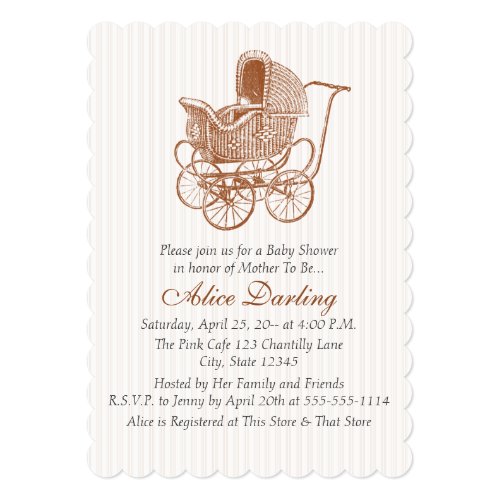 With this first one I chose to show it on one of the other "paper shapes" available to give it this cute, scalloped edging. I just like it better that way, because I think it adds more charm to it. But you can choose the regular, simple rectangle shape, or one of the other options as well, such as rounded corners.
The design is of an old fashioned style, wicker, baby carriage illustration in brown, on a lightly striped background. There are actually blue and pink versions of this invitation available as well if you wanted something more gender specific. There are chalkboard style versions of it as well.
2.
This next design is rather sweet with it's floral background, and striped with lace border, then a black and white illustration of an old baby buggy placed on top. It has a sort of scrapbook, collage sort of feel I suppose.