Continuing with the theme of baby shower invitations (I had posted about baby carriage themed ones
here
), here are some baby bottle shower invitations that I thought were pretty cute. Okay, actually I was kinda disappointed by the choices of this theme on Zazzle. But I really like the ones I picked here and I really do Love the last two I picked (so be sure to scroll down and see those ones).
(The following links are affiliate links. You can read more about what that means here.)
When I searched Zazzle for "baby bottle" invitations a lot of the results did not show baby bottles. I got things like the "drink me" bottle from Alice in Wonderland and even beer bottles (although I did see some that featured both beer bottles and baby bottles, which I personally find kind of strange, but okay). It was frustrating to see a lot of things that I thought were not related to what I was searching for, so I hope my having "curated" these will help you.
Also, other invitations in the search results had baby bottles, but not as a main feature of the design. And I am looking for ones where the baby bottles are the main thing. I also did see some designs where the bottle was the predominant part of the design, but I didn't like them.
So after looking through dozens of pages on Zazzle these are my top 5 picks. By the way, with most of these I am showing the more gender neutral of the ones available, but some of the designers had more specific boy (blue) or girl (pink) ones available as well. You can click on the designers name on the product page and search their "store" for the same design in other options.
1.
I thought this was pretty cute, but unlike the others I will mention, it doesn't have "text templates" where you can just fill out the form on the page and then you are done. You would actually have to click on the Customize button and add the text, choose fonts, and create the whole layout yourself. Which might not be easy if you are not used to using Zazzle's customize options and just want to do something quick and easy. Bummer.
2.
When I looked the designer only had this gingham design available in pink and not a blue one or a gender neutral one. Hopefully they will be adding those at a later date.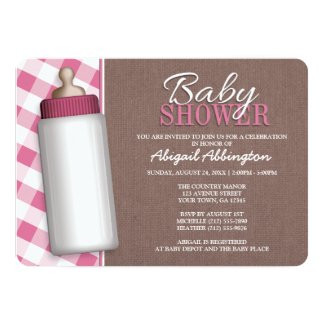 Rustic Pink Gingham Baby Bottle Baby Shower Invite
by
HavingBaby
3.
Although the text is kind of hard to read on this design it was still one of my favorites. I thought the skinny paper size and baby bottle layout in the background was cute. I just wish the text could be outlined in white or something to make it stand out against the darker parts of the background more. Maybe a different font color could be chosen by the buyer using the Customize It button to help it be more readable though?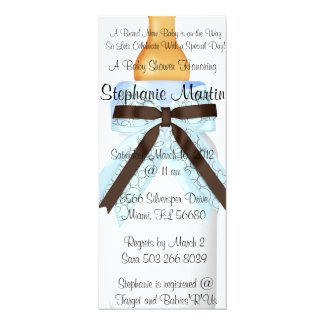 Baby Bottle Shower Invitation
by
Zulibby
4.
I really, really like this one. It is cute. It is designed nicely with it's simplicity but still very visually interesting. It is a modern design, but still very charming and sweet. I thought this color was the best. It is also available in green, bright pink, yellow (that one was kind of hard on the eyes and hard to read though). For some reason it wasn't available in blue. I wish the designer had set it up so the buyer could just choose the background color they want (that's a little more complicated for the buyer, but not by much). She does have an "Ask this designer" link on the page so you could contact them and ask if she could make it available in other colors.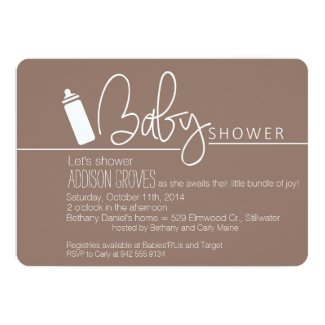 Baby Shower with Bottle in Tow 5x7 Paper Invitation Card
by
krystal_lynn
5.
Okay, this one was my favorite of the bunch. It is done in that cool and trendy "chalkboard" style. This particular version has a yellow baby bottle with yellow stars and white text on the chalkboard background. However it is also available in three other versions--all white, pink and blue. It has the sweet, old fashioned charm that I personally like. The chalkboard theme is both old-fashioned and yet modern (because it's trendy I suppose) and the stars give it a bit of a whimsy, magical, childhood feeling.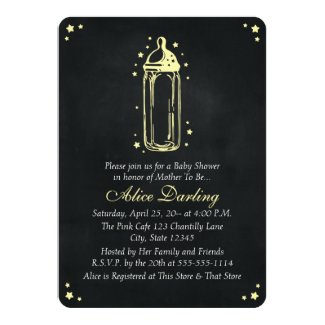 Vintage Chalkboard Yellow Baby Bottle Baby Shower 5x7 Paper Invitation Card
by
SnipClipGig
What do you think of my top picks? Do you have others you liked more?